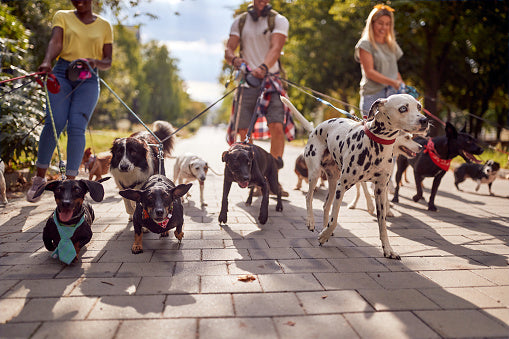 Doggy Daycare Auckland
Looking for reliable and high-quality doggy daycare in Auckland? Search no further than Paws On Tour!

If you're seeking a place where your furry friend will be well taken care of and have plenty of fun, then try Paws On Tour! Our doggy daycare dog walks services are second to none, providing your pet with a safe, comfortable, and stimulating environment while you're away.

Our experienced and compassionate staff members are committed to providing dogs with the best possible care. We offer a range of services to suit your needs, from full-day dog day care to half-day options. Our services are equipped with everything your dogs could need.
Dog Daycare
Welcome to Paws On Tour, where your furry friend's comfort and care is our top priority. We are proud to offer a safe, fun, and engaging environment for our dog daycare, where your dog can socialise, play, and receive the care and attention they deserve.
Our team of experienced dog handlers is dedicated to providing personalised care to each and every dog that comes to our daycare. We believe that dogs thrive in a structured, safe, and nurturing environment, so we have designed our daycare walks with your dog's comfort and safety in mind.
Whether you're seeking doggy daycare in West Auckland or throughout the Auckland region, we're here to guide reliable, attentive services for all dogs.
Auckland Doggy Daycare Services
At Paws On Tour Auckland, our doggy daycare services see us walking dogs through immersive, scenic routes throughout Auckland. Our dog walks offer considerable flexibility, where we collect your dogs from home, and take care of your loved ones. Our experienced staff will ensure your dog has plenty of playtime, exercise, and socialisation while you are away.
Dog Day Walking Options
We take great pride in the quality of care we provide to your dogs. Our team is committed to ensuring your dog receives the best possible care and attention. We offer a wide range of dog walking services, whether for half or full day care needs, including:
Join the Scratch n Sniff Adventure Walk for an unforgettable experience exploring the beautiful beaches and bushwalks of Auckland. With half-day doggy adventures available three or five days a week for your dogs, there's no excuse not to get out and explore! During the two-hour adventure walk, your dogs will discover new sights, smells, and sounds, and get some exercise too. Prices start at $52.00 for a single half-day adventure, or choose the three-day or five-day per week options for a discounted price.
If you want a more intense experience better suited for your dog, try the Adrenaline Junky Adventure Walk. This full-day adventure will have your dog exploring even more of Auckland's hidden gems. Prices start at $76.00 for a single day, or you can choose the five-day per week option for a rate of $380.00.
Don't let your doggy miss out on the excitement - join the Scratch n Sniff Adventure Walk or Adrenaline Junky Adventure Walk today and create unforgettable memories together with your dog!
A Memorable Dog Day
Our dog walker services are perfect for busy pet owners who want to ensure their dog gets plenty of exercise and fresh air. Our experienced walkers will take your dog on a fun and exciting adventure, ensuring they get the exercise they need; an excellent option for doggy daycare.
Responsible Dog Daycare
At Paws On Tour Auckland, we understand your dog is an important member of your family. That's why we care for every dog like our own. We feel all dogs deserve love, attention, and care, which is why we go above and beyond to ensure your dog feels safe, happy, and loved during our doggy daycare.
Our Paws On Tour doggy daycare team of experienced professionals provide the highest quality care and attention to all dogs spending their day or half day with us. We are committed to ensuring your dog has a fun and engaging stay at our daycare; we'll do everything we can to make sure your dog feels at home.
Paws On Tour Doggy Daycare
So why choose us? Our reliability, attention to detail, quality of care for all dogs, and guarantee of professional service are just a few reasons why we stand out from the rest. We understand that choosing a daycare for your dog can be difficult, so we encourage you to come and visit our facility and meet our team. We are confident that you will see the difference in our care and attention for all dogs in our care.
Don't hesitate to get in touch with us to learn more about our services or to book your pet's stay at our dog daycare. As one of the largest dog walking companies in Auckland, we serve the majority of the wider area. Get in touch with us now to arrange a meet and greet. At Paws On Tour Auckland, we are dedicated to providing the best possible care and attention to your furry friend, as they play and exercise during their day with us.