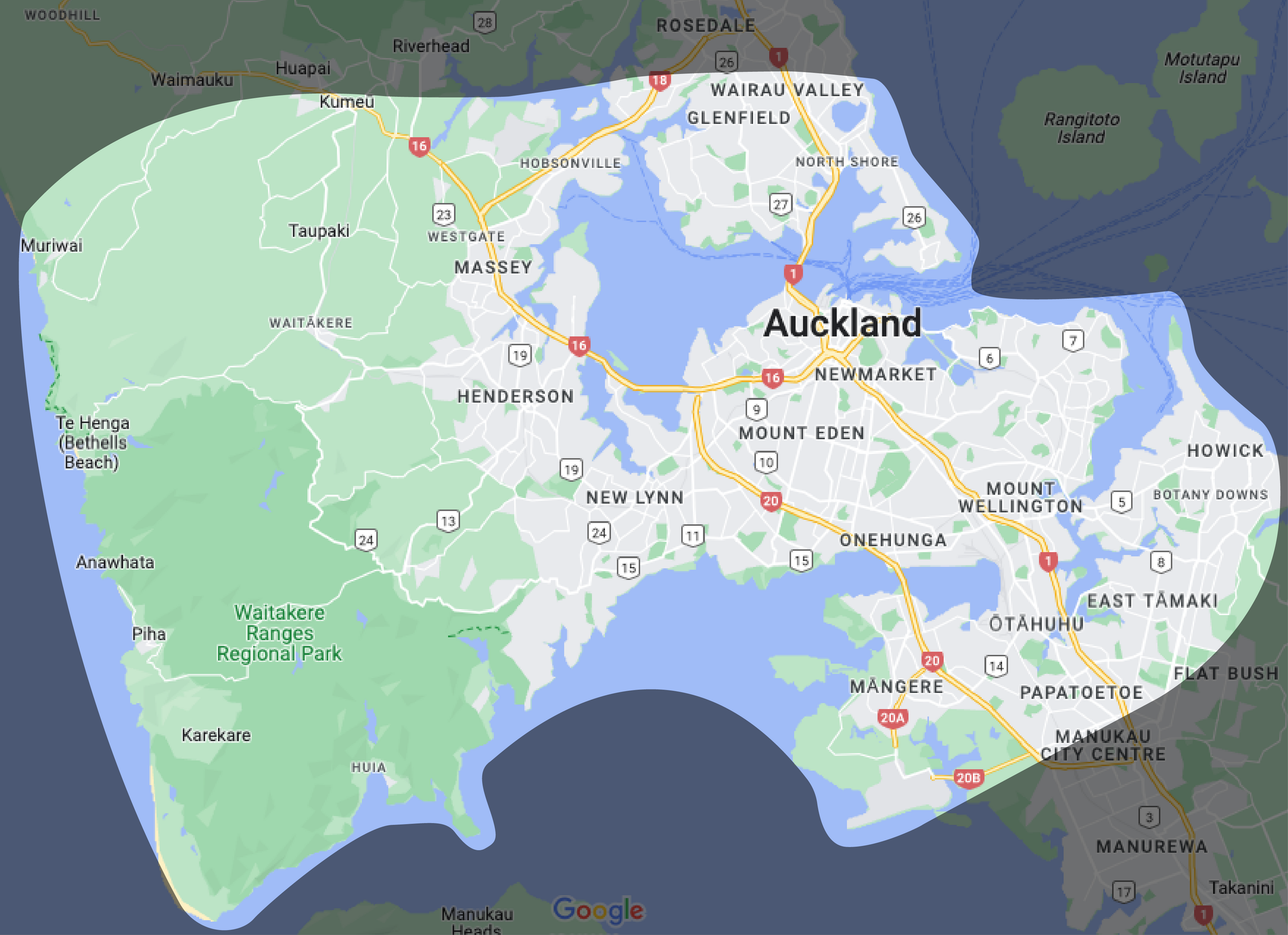 Dog Walkers Near Me
We are one of Auckland's largest dog walking companies and cover the majority of the wider Auckland area. If you are unsure if we cover your area please get in touch.
Do you find yourself inquiring about "dog walkers near me?" You should consider Paws On Tour! We're a professional dog walking and pet care company located in Auckland, New Zealand.
Our experienced dog walkers offer personalised care to ensure your dog gets the exercise and socialisation they need to be happy and healthy.
Paws On Tour in Auckland
At Paws On Tour in Auckland, we understand that dogs are an integral part of the family. That's why we are committed to providing the best possible doggy daycare in Auckland for your dog while you're away at work or a commitment. Our professional and experienced dog walkers are committed to ensuring your dog gets the exercise and socialisation they need to be comfortable during our walks.
Our dog walking services are tailored to your specific needs. We offer regular daily dog walks, as well as occasional walks for those times when you need a little extra help. Our dog walkers are available to walk your dog on a regular basis, or on an as-needed basis. Whether you need a daily dog walker or a one-time walk, we are here to help.
Free Dog Walking Consultation
We understand that all dogs are unique, so we take the time to get to know your dog before we begin walking them. Our dog walkers offer a free consultation, where they will meet your dog, discuss their needs, and answer any questions you may have. This meeting allows us to create a customised dog walking plan that satisfies your dog's specific needs.
Highest Level of Pet Care
At Paws On Tour, we are committed to providing the highest level of care for your dog. Our dog walkers are experienced and professional, so you can rest assured that your pet is in good hands.
At our dog walking service, we offer a unique and hassle-free experience for pet owners with our free dog collection and return service, directly from your residence. This convenient service means you don't have to worry about dropping off or picking up your pet from our location. We will come to your doorstep, collect your pet, and bring them back to you after their adventure.
Your dog will have an unforgettable time with us, exploring various locations with our dog walker, such as the beach, parks, and hills around Auckland. We guarantee all dogs will have fun running, playing, and socialising with other dogs in a relaxed and safe environment.
Paws On Tour Team
Our team is composed of passionate dog lovers who understand that all dogs have individual needs and preferences. Therefore, we tailor our activities to suit your pet's personality and energy levels, ensuring they have the best time possible.
As part of our commitment to providing the best care for all dogs, we offer high-quality dog treats and plenty of water to keep them hydrated during their adventure. We understand the importance to dogs of a balanced diet, and we ensure your dog gets the right nutrition to keep them healthy and happy.
We also understand that as a pet owner, you would want to know how your dog is doing while on their adventure with us. That's why we provide daily photos of your dog out on their adventures with us, giving you peace of mind and allowing you to share in their experience.
Need a Pet Walk Service?
Our dog walking in Auckland is an excellent choice for doggy daycare, whether you need someone to care for your pet while you're away or just want a little extra help with your dog's exercise routine with Auckland dog walking. We are here to help offer your pet fun, healthy experiences, with excellent convenience to fit your schedule.
Great Dog Walking Auckland Pricing
We strive to make our dog walking services affordable and convenient for you. Our prices are competitive, and we offer flexible scheduling options to accommodate your busy lifestyle, even picking up dogs straight from their Auckland home. Whether you need us to take care of your pets for a few hours or the full day, we're here to help.
In addition to our competitive prices and flexible scheduling, we also offer discounts for multiple dog households, so you can save even more when caring for the well-being of your dogs. We think that taking care of multiple dogs shouldn't be a burden on your wallet, and we're happy to help you save money while still providing excellent care for your dogs.
Paws On Tour Dog Walkers
So, if you find yourself seeking "dog walkers near me," look no further than Paws On Tour. With our experienced dog walkers, personalised care, and commitment to your dog's safety and happiness, you can trust us to provide the best possible care for your pet.
From dog-friendly beaches in Auckland, to bush and parks, we take your dogs on fun, memorable trips.
If you're interested in learning more about our services, contact us today to schedule your free consultation. During your consultation, we'll take the time to get to know you and your dog, answer any questions you may have, and help you choose the services that best meet your needs.
WEST AUCKLAND PACK

Avondale
Bethells Beach
Blockhouse Bay
Cornwallis
Glen Eden
Glendene
Green Bay
Henderson
Hobsonville
Kelston
Laingholm
Lynfield
Massey
New Lynn
New Windsor
Oratia
Rānui
Royal Heights
Sunnyvale
Swanson
Te Atatū
Te Atatū Peninsula
Te Atatū South
Titirangi
West Harbour

NORTH SHORE PACK

Bayswater
Bayview
Beach Haven
Belmont
Birkdale
Birkenhead
Chatswood
Devonport
Glenfield
Hauraki
Hillcrest
Narrow Neck
Northcote
Northcote Point
Stanley Bay
Stanley Point
Takapuna

CENTRAL AUCKLAND PACK

Arch Hill
Auckland CBD
Balmoral
Eden Terrace
Epsom
Freemans Bay
Grafton
Grey Lynn
Herne Bay
Kingsland
Mission Bay
Morningside
Mount Albert
Mount Eden
Mount Roskill
Newmarket
Newton
Owairaka
Parnell
Point Chevalier
Ponsonby
Saint Marys Bay
Sandringham
Three Kings
Waterview
Western Springs
Westmere

SOUTH AUCKLAND PACK

Favona
Hillsborough
Māngere
Māngere Bridge
Onehunga
One Tree Hill
Oranga
Royal Oak
Te Papapa

EAST AUCKLAND PACK

Bucklands Beach
Eastern Beach
Ellerslie
Glendowie
Glen Innes
Greenlane
Howick
Kohimarama
Meadowbank
Mellons Bay
Mount Wellington
Orakei
Pakuranga
Pakuranga Heights
Panmure
Penrose
Point England
Remuera
Saint Heliers
Saint Johns
Stonefields