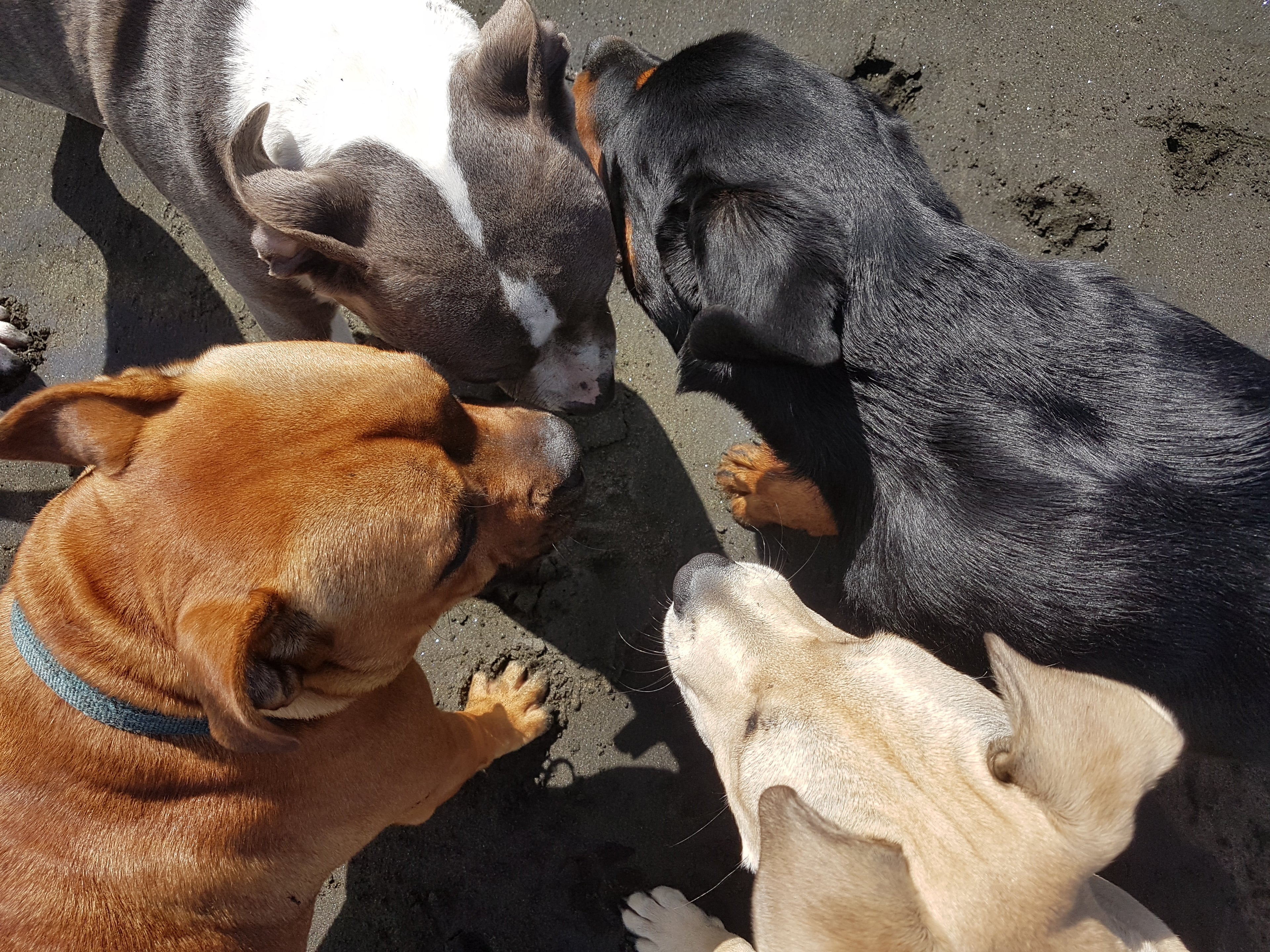 The benefits of hiring a professional dog walker
WHY YOU SHOULD CONSIDER A PROFESSIONAL DOG WALKER
Have you ever considered getting a professional dog walker in to walk your pet but hesitated as you don't really know what they actually do? This article will highlight some key benefits of why a pet owner should consider hiring a dog walker and how to go about choosing the right walker for your pet. Most people who hire an Urban Walkies dog walker are pleasantly surprised at just how much their dog loves walking with us and generally book 3-5 days a week after their first few weeks of trialling out our walks.  
The harsh reality is most pet owners face having to walk their dog in the early, wee hours of the morning or late evenings, squeezing them in around their hectic work-life schedule, often when it is dark and cold which isn't much fun for anyone week in, week out. Time can quickly be eroded away with the daily grind of work and family life such as kids, day-care, school, sports/activities, domestic duties, staying healthy and on top of all of this trying to find quality time to care for their beloved pet. Sometimes life-changing events such as a new baby, a personal injury/operation/illness or a simple change of job can make it all the harder to find the time to properly exercise your dog. 
Employing a professional dog walker to come in throughout a working week can help you claw back some precious time for you to do other important things. A dog walker can give your pet the exercise and attention that they deserve when you can't be there throughout the day so that you can then come home, relax and enjoy quality time with them and your family. It's a beneficial relationship that guarantees that your pet will be exercised and socialised daily instead of them sitting at home, staring anxiously at a door waiting for your return.
BENEFITS OF DAILY DOG WALKING 
Providing consistent routine for your pet such as hiring a daily dog walker can help decrease hyperactivity, barking, destructive/chewing behaviours and toileting accidents in the house. Speaking from experience here – A tired dog, is always a calmer dog! It is a win-win, your pooch will be happy with their new exercise routine with their walker friend, and you will be grateful for the improved behaviours
Having a regular dog walker can create a meaningful daily interaction for your pet with a person who is solely focussed on them and their needs. A walker can help reduce loneliness and boredom for your dog rather than sitting for long periods of time at home or in a backyard for 8-10 hours a day without any interaction or stimulation
More time spent outside a dog's static home environment is very important for your dog's physical, behavioural and mental stimulation so more time outside with a dog walker can help increase your dog's overall health, happiness and well-being  
More exercise for you dog helps control weight gain, promotes digestive health and relieves constipation. A 30 minute walk or more can help burn any extra weight off and increase the longevity of your pet. Just like humans, an inactive and/or overweight dog is not a healthy dog. Research has shown that a 30 minute walk for an overweight dog, at least three times a week can reduce your dog's weight up to 15%. Regular exercise along with a balanced, good quality diet can help your dog maintain it's ideal body weight and keep them happy and healthy for years to come
Daily dog walks greatly improve your dog's socialisation as they generally meet their old and sometimes new doggy friends on their daily outings with their walker. Dog walkers can also take your dog to new, exciting places such as our Urban Walkies off-location group walks in which socialised/ dog-friendly dogs can roam and play with other dogs in a safe group environment. Our dogs really thrive off this kind of pack interaction and adventure! Dogs that are fearful or timid can benefit from daily walks to help build confidence and awareness. In addition, daily walks expose your dog to other animals and humans, helping them adapt more quickly to new or intimidating situations.
WHAT TO LOOK FOR IN A DOG WALKER
Insurance – Always source a professional dog walker that holds sufficient business insurance. Though most dog walkers will avoid any dangers while caring for your pet, unforeseen accidents can happen and they should be prepared for the unexpected. Unlike a neighbour or friend, a professional dog walker protects their clients, the pets they care for and their business by carrying business insurance. Comprehensive insurance policies should cover bodily injury (to a client's dog, a 3rd party dog or injury to an individual/walker) and property damage (accidental breakage and/or unforeseen damages caused to a 3rd party property by a client's dog). No one likes to think about these things until they happen so it is always good to ask if they are covered and what they are covered for if something should go wrong.
Reliability - A professional dog walker will be reliable and will always be there for you and your pet when they say they will be there. Sometimes it is hard to rely on friends or a neighbour (generally they are just as busy as you are) which can sometimes mean a last minute cancelation can leave you and your pet stuck. Hiring a professional is a hassle free alternative and guarantees a schedule visit at a time you want for your pet.
Quality - Anyone can claim to be a dog walker but hiring the cheapest walker you can find might potentially end up costing you more, especially if something goes wrong! A casual dog walker most likely won't be insured, they won't be police background checked and they could easily take your money and/or property and disappear without a trace. Always look at the company's website (if they have one) and ensure it is current and up to date, investigate customer reviews (Google, Facebook) and any activity on social media (Facebook, Instagram) to understand what people have to say about the business that you are interested in hiring. You will quickly see for yourself that a good service provider will go above and beyond to ensure your pet is happy and healthy and show a genuine love and interest in your pet. 
Below are some helpful questions you might want to ask when looking to hire a professional dog walker.  If the dog walker that you are looking to hire can answer all of these questions without hesitation, are insured, seem caring and enthusiastic and most importantly that your pet seems to like them, then you can feel comfortable in selecting the right walker for your pet.
12 QUESTIONS TO ASK WHEN HIRING A DOG WALKER
How long have you been working as a dog walker?
Are you insured?
What kinds of dogs do you care for regularly?
What kind of services do you offer?
What rate do you charge?
Do you have a backup plan if you get sick or injured and can't make it to my home to care for my dog(s)?
Will I get to meet my sitter for a complimentary consultation before the visits start?
Do you bring your own pet, other people's pets, or anyone else with you when you care for a client's dog/s?
Can you give medication to my dog(s) if needed and is there an additional charge?
How will I know if you came for the visits?
What is the cancellation policy?
When is payment due?
Have you been police vet checked? 
If you are looking for a safe and professional pet service provider in Auckland, Urban Walkies should definitely be in your shortlist. We offer competitive rates for a range of dog walking options which are listed below:
Alternatively, to find out more about our professional dog walkers and the services we offer please contact us and book a no obligation free meet and greet with one of our walkers today.
urbanwalkies.co.nz